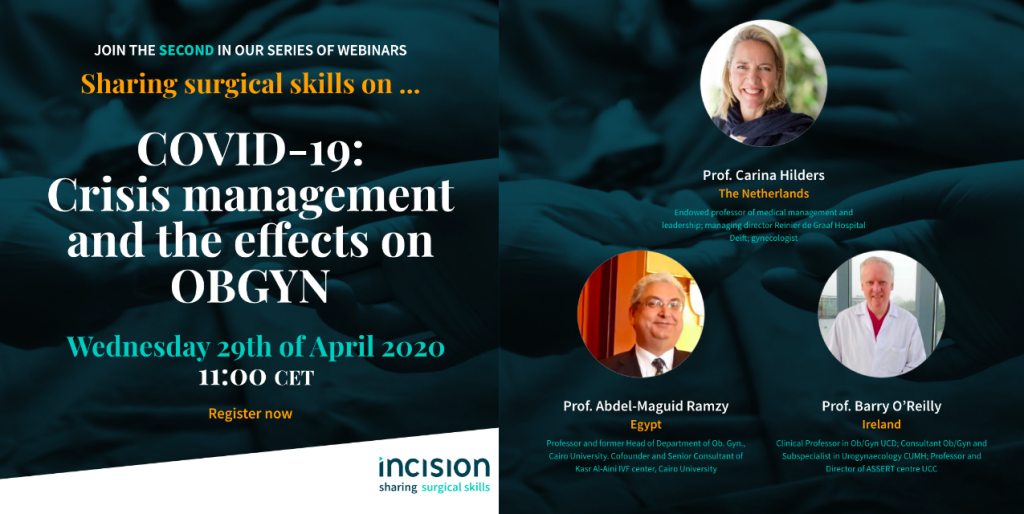 Join our webinar on COVID-19: Crisis Management and the effects on OBGYN
We are delighted to invite you to the second webinar in our series 'Sharing Surgical skills on….' with the second topic being the 'COVID-19: Crisis Management and the effects on OBGYN.'

Who are the speakers?
Professor Carina Hilders (The Netherlands)
Endowed Professor of medical management and leadership, Managing Director Reinier de Graaf Hospital Delft, Gynecologist
Professor Abdel-Maguid Ramzy (Egypt);
Professor and former Head of Department Ob.Gyn, Cairo University; Co-founder and Senior Consultant of Kasr Al-Aini IVF center, Cairo University
Dr. Barry O'Reilly (Ireland);
Clinical Professor in Ob/Gyn UCD; Consultant Ob/Gyn and subspecialist in Urogynaecology CUMH, Professor and Director of ASSART centre UCC
Who is hosting?
Incision's founder and distinguished retired Professor of Surgery, Theo Wiggers, will be hosting and moderating the panel discussion.

What will be covered?
In this webinar, there will be presentations from Gynaecologists about crisis management within the hospital, and two case-based discussions on fertility and obstetrics.
Register now to reserve your spot.
DATE: 29 APRIL, 2020 [WEDNESDAY]
TIME: 05:00 PM SINGAPORE LOCAL TIME