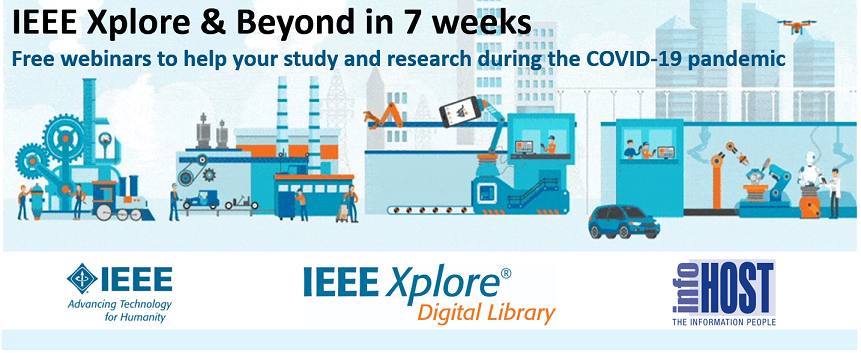 Free webinars to help your study and research during the COVID-19 pandemic
This 7-session webinar series is to facilitate your exploration of scientific research and technicalcommunication, from basic IEEE Xplore searching to publishing with IEEE, career development and more.
This webinar series will be conducted every Tuesday, with a repeated session on every Wednesday covering the same content to facilitate users with different availability.
Register for either Tuesday's session or Wednesday's session, it's totally free!
Contents for the sessions each week
Week 1 (April 28 or 29): Insider tips about IEEE Xplore Digital Library
Week 2 (May 5 or 6): Research like a pro: Advanced search & Beyond
Week 3 (May 12 or 13): IEEE New Resources & Services: Code, Dataset, API, App, etc.
Week 4 (May 19 or 20): Getting your paper ready: technical writing 101
Week 5 (May 26 or 27): Publishing with IEEE: Submission & Peer Review
Week 6 (June 02 or 03): IEEE Standards: An introduction
Week 7 (June 09 or 10): Career development with IEEE