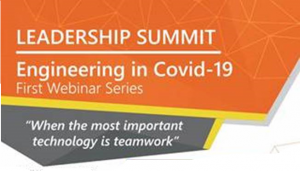 IEEE LEADERSHIP SUMMIT, ENGINEERING IN COVID-19 – First Webinar Series

The crisis related to COVID-19 pandemic is shocking, directly disrupting our professional life: business, engineering, academy, management, and virtually all sectors. But the engineering professionals are not supposed to give up — we have chosen to maximize all available technology to overcome the crises. Bridging many limitations, uncertainties, and challenges, engineers can use the main weapons: collaboration and teamwork.

IEEE Industry Relation, Government Relation, and Young Professional Indonesia Section together with IEEE Region 10 and IEEE Singapore Office proudly organize the first webinar series of Leadership Summit, Engineering in Covid-19 to mark the Indonesia National Education Day.

We are delighted to invite you to join us in this top-notch webinar series to get an insight view from the industry, corporations, academic and government sector on how technologies and engineering cope with this unprecedented challenges.

Theme: "When the most important technology is teamwork"
Keynote speech: Prof. Bambang Brodjonegoro, Indonesia Minister of Research and Technology.

Invited Speakers:
·         Prof. Akinori Nishihara, IEEE R10 Director
·         Prof. Wisnu Jatmiko, IEEE Indonesia Section Chair
·         Agnes Irwanti, IEEE IS Industry Relations Chair
·         Mr. Deepak Mathur, IEEE R10 Director-Elect
·         Dr. Chris Lee, IEEE R10 Industry Relations Committee Chair
·         Arief H. Gunawan, PT Telkom Indonesia
·         Dr. Patrick Liew, GEX Ventures Pte Ltd Chairman
·         Satriyo Dharmanto, CEO PT Multikom Global Mediatama
·         Dr. Denny Setiawan, Director of Spectrum Policy and Planning, Ministry of Communications and IT Indonesia

Moderator:
·         Kuncoro Wastuwibowo, PT Telkom Indonesia
·         Dr. Ford Lumban Gaol, IEEE IS Computer Society Chair
If you are considering alternative staffing models, such as using nurses from different areas or implementing a team-based approach to help ease staffing challenges, Rapid Onboarding will ensure that all nurses have quick and effective orientation to care for any patient, especially those with COVID-19.
You'll find accurate information on correct use of PPEs, infection control precautions, and updated procedures for this specific patient population. To support COVID-19 patients with comorbidities, your institution will also have access to all 1,800+ Lippincott Procedures during the 60-day full access period.