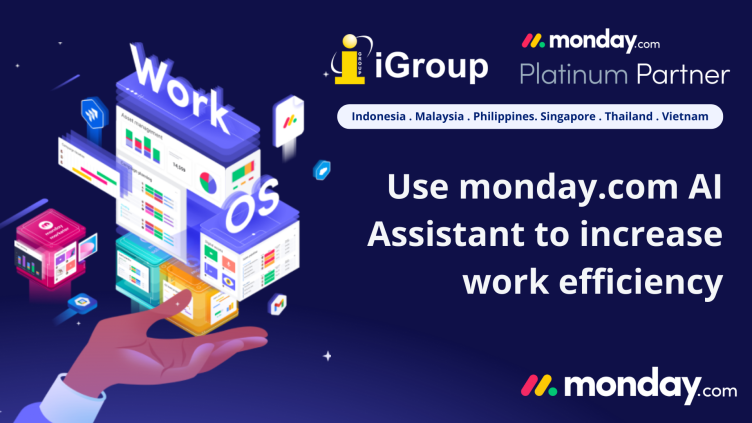 How does monday.com AI assistant helps to increase work efficiency?

Get ready for a new era of productivity!
monday.com is bringing the power of Artificial Intelligence (AI) to your workspaces with their groundbreaking AI assistant. 🤖✨ Opening their platform to third-party developers, monday.com invites them to build AI apps on the monday app Marketplace, expanding the possibilities even further. Let's dive into the exciting capabilities of the upcoming beta launch of monday's AI assistant. 💪🔥
Generate tasks✅
monday.com's AI assistant takes the hassle out of task creation. It uses artificial intelligence algorithms to generate tasks based on predefined parameters intelligently. This automation saves time and ensures consistency, allowing project managers and team members to focus on more strategic aspects of their projects.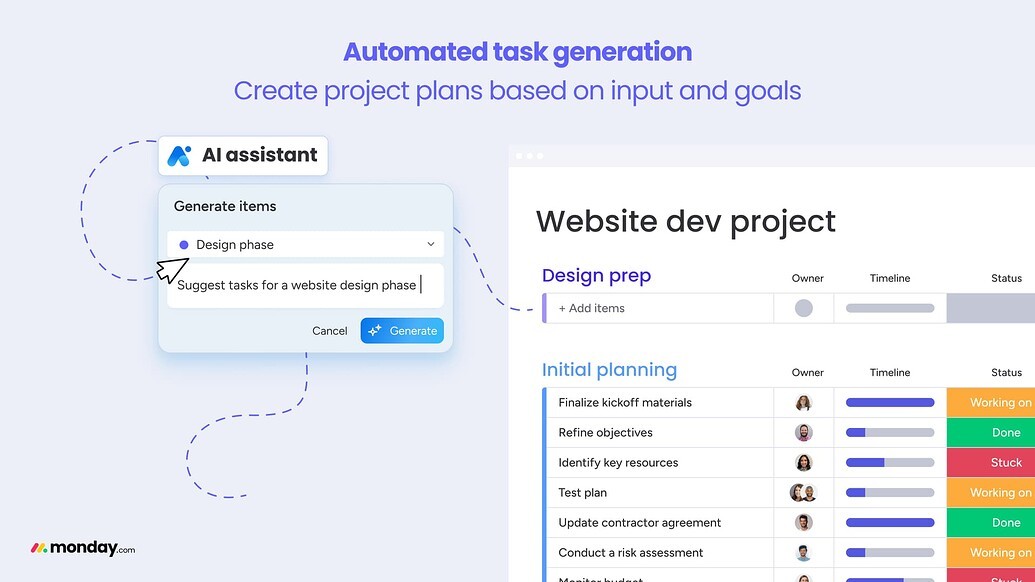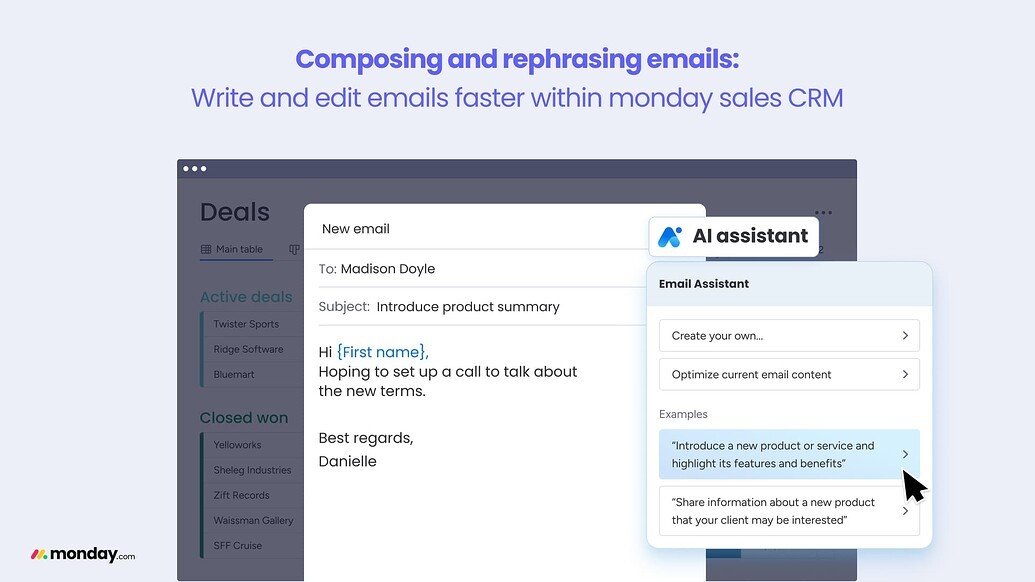 Compose and rephrase emails 📧📝
Effective communication is vital, and the AI assistant makes it even easier. With its language processing capabilities, the AI assistant can assist in composing and rephrasing emails.  It suggests alternative phrasing and helps optimize the messaging, ensuring clarity and conciseness in your email communications.
Summarize complex tasks 📊📋
Projects often involve complex tasks that require clear understanding. The AI assistant simplifies this by providing task summarization. By analyzing task details and relevant information, it generates concise summaries that ensure all team members have a clear understanding of the task at hand. This promotes better collaboration, reduces misunderstandings, and enables efficient task execution.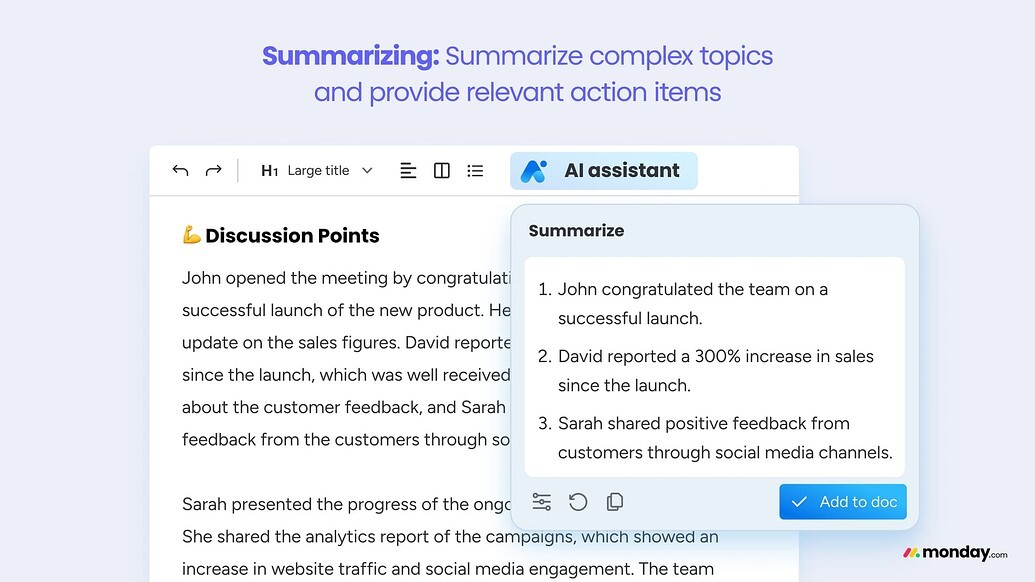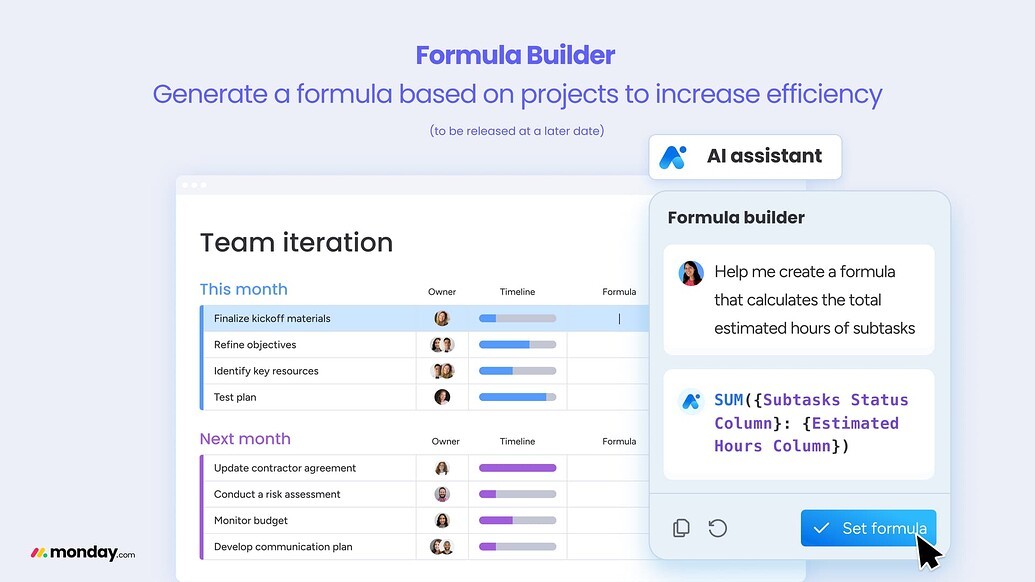 Build formulas 🧮📈
Formulas are essential for data analysis and decision-making. The AI assistant streamlines this process by offering the capability to build formulas. With the assistance of AI algorithms, it guides users in creating formulas, simplifying the process and reducing the likelihood of errors. This empowers teams to derive meaningful insights from project data, enabling informed decision-making and driving project success.
In summary, monday.com's AI assistant automates task generation, assists in composing emails, provides task summarization for better understanding, and helps build formulas for data analysis. These capabilities enhance productivity, streamline communication, and enable efficient decision-making, ultimately driving the success of your projects.
Let's unlock the power of collaboration together! 🙌
Source: iGroup Singapore Linkedin
---
📚 Want to dive deeper into these game-changing features? Book a personalized session with our product expert today